French gourmet cuisine, grilled fish, and sea food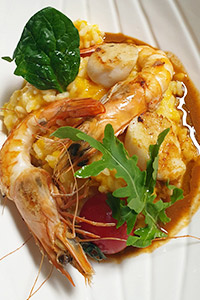 For Lunch as for Dinner, our 2 Chefs and their team cook all your dishes with fresh products of the season, "with pleasure and passion"!
Inspired by French traditional cuisine and Mediterranean flavours, the restaurant Menu selects with great care the best products of the sea as well as of the earth, according to their origin and freshness.
After some years of regular hard work and providers selection, Restaurant Chez Mô has now become a well-known place in Antibes for seafood and grilled fish (whole wild fish or locally farmed). Just out of our fish shop tanks, the lobster will be simply grilled to savour all their taste and freshness, and served with a choice of sauce and side dish of the moment.
Last but not least, our team has been enriched for some years now by authentical Sushi chefs who propose traditional or original Sushi made with the Fish shop fresh products and served with an original sauce... a real treat for sushi lovers!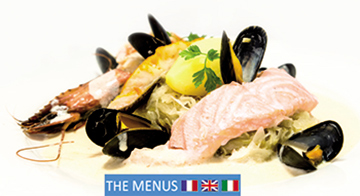 Every day for Lunch and for Dinner, "Menu Special Albert 1er" offers
a gourmet and large selection among the starters, main dishes and desserts
of our Carte. (31€ without beverages, 38€ wine included).
On week days, our Lunch set menus are proposed every day from 12h
to 14h (Monday to Friday except Holidays). They include 1 beverage
(glass of wine, beer, mineral water) plus 1 coffee.
Formule ExPress : 18,90 € : Dish of the Day + Dessert
Formule Détente : 19,90€ : Oysters or Starter + Dish of the Day
Suggestions of the day: according to the market, ask us